User Posts:

Dhivya Manick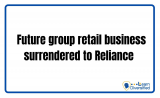 Kishore Biyani sold the retail business by selling the 'crown jewel' of the Future Group to Reliance retail owned by Mukesh Ambani. This bulk transaction with ...
Harley Davidson - A culture more than a brand The iconic brand Harley Davidson is in a talk to close its operations in India due to poor sales and no demand ...
In the current new normal, several online educational platforms are flourishing with high revenues. And it is no doubt that Byju's is one among those ...
Have you shared your own built Lego toys on Lego Website? Have you posted a picture of the Coke bottle you consumed? Have you shared the best picture shot on ...
Russia says that the country will register its first vaccine by August 12 which is developed by Moscow's Gamaleya Research Institute of Epidemiology and ...
Around 60 pilots operating repatriation flights to bring back the Indians in abroad is tested with positive for coronavirus mentioned in the letter sent to the ...
Microsoft co-founder and philanthropist Bill Gates has said that the Indian pharmaceutical industry is not alone capable of producing COVID-19 vaccines for the ...
The enforcement directorate attached the properties regarding Yes bank scandal. The properties account for  Rs 2,203 crore which includes a bungalow of Rs 685 ...
By this time while many of you reading this article in mobiles and tablets you will definitely find notifications popping up. Those notifications are merely ...
The chairman of Maruti Suzuki R C Bhargava says that making India globally competitive in manufacturing sector is a difficult task. He also says that even ...
Browsing All Comments By:

Dhivya Manick