Did you know that some of the Famous Companies you know, originally used to sell something else, completely different from what made them popular now?
The Founders of the Companies, which is World Famous now, initially started with a small idea. Some of them were able to stick to it and developed the same into a Million -Dollar Company.
Whereas, some of them switched to different business by adapting to changing markets, changing consumer habits, or even because of failures. However, their transformation became the reason for what they are today… "Famous Company or a Popular Brand…"
Check out the Following Companies, which originally sold something else completely different from their present business.
1.Samsung
Samsung is a South Korea based Multinational Conglomerate manufacturing an array of Mobile Phones, TVs, Tablets and other electronics.

Samsung was founded in 1938 by Lee Byung-Chul as Grocery Trading Company. Samsung used to trade Noodles, Dry fish and other goods to China.
Over the next three decades, the Company diversified into Food processing, Textiles, Securities, Insurance and Retail. Later, it also started investing in Petrochemical Industries.
Samsung entered the Electronic Industry in the late 1960s and gradually started its global expansion. Now, Samsung has become synonymous for technology and holds a strong position in the Global Market.
2.Avon
Avon, mostly referred to as Company for Women, is now one of the leading Beauty Company with more than $10 Billion Annual revenue.
Avon was founded by David H. McConnell in 1886. He originally undertook Door-to-Door selling of Books. In order to improve his sales, he offered perfumes as gifts to women.
Over a period of time, he found out that perfumes he gifted became more popular than the books he sold. He also witnessed women discussing the perfumes to others. So, he started the California Perfume Company, which later became Avon.
3.Colgate
Colgate-Palmolive is an American Multinational Consumer products Company which manufactures and sells products under the categories of Oral Care, Personal Care, Home Care and Pet Care.

William Colgate started a starch, soap and candle business under the name of William Colgate & Co in 1806. After he died in 1857, his son Samuel Colgate took over the business, reorganized it as Colgate & Company.
In 1873, Colgate introduced its first Toothpaste in a jar. Later on, it was acquired by Soap manufacturing Company Palmolive-Peet and was renamed as Colgate-Palmolive Company, the current name.
4.Nokia
Nokia is a Finnish Multinational Telecommunications, Information Technology and Consumer Electronics Company.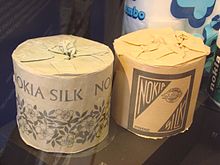 Nokia was founded by Fredrik Idestam in 1865 as a pulp mill to manufacture and sell paper. Over the years, it ventured into a range of industrial sectors including cable, paper products, rubber boots, tires, televisions, electronics, etc.
Nokia entered the mobile phones market in the 1980s after the acquisition of Mobira Company.
5.Tiffany & Co
Tiffany & Co is an American Luxury Jewellery Company which manufactures and sells Sterling Silver, Superlative diamonds, Innovative jewellery, Watches and other luxury accessories.
Tiffany, Young and Ellies (Former Name) was founded in the year 1837 by Charles Lewis Tiffany and John B Young as a Stationery and Fancy goods store.
The name changed to "Tiffany & Co" when Charles Tiffany took over in 1853 and started laying emphasis on Jewellery. Tiffany is now an iconic brand of the world, known for its breathtakingly brilliant diamonds and other jewellery.
6.Wrigley's
Wrigley Company is an American Chewing Gum Company, which is the largest manufacturer and marketer of chewing gum in the world.

Wrigley Company was founded in 1891 by William Wrigley Jr to sell soap. He used to offer Baking Powder as complimentary to customers who purchased more soaps. Later, he switched to Baking powder business, where he offered two packages of chewing gum for a purchase of one can of Baking Powder.
The chewing gum he offered as complimentary became more popular than the Baking powder. Soon, he reorganized the business to manufacture and sell chewing gums.
Wrigley Company was acquired by Mars in 2008, and the Company is now a subsidiary of Mars.
7.American Express
American Express is an American Multinational Financial Services Corporation. It is known for offering charge cards, credit cards, traveller's cheque and many other financial products.

American Express was founded in the year 1850 as an Express Mail business in Buffalo, New York. It was established as a Joint Stock Company by the merger of express companies owned by Henry Wells (Wells & Company), John Warren Butterfield (Wells, Butterfield & Company) and William G. Fargo (Livingston, Fargo & Company).
Henry Wells and William G Fargo also founded a notable Company – Wells Fargo & Co in 1852, when other Directors refused the proposal to extend American Express operations to California.
8.Berkshire Hathaway
Berkshire Hathaway is an American Conglomerate and Multinational Holding Company. The Chairman and CEO of the Company is Warren Buffett, one of the most successful investors of all time, fondly called as "Oracle of Omaha".

Berkshire Hathaway was founded by Oliver Chace in 1839 as the Valley Falls Company. It was primarily set up as a Textile manufacturing company. Warren Buffett began buying stocks of the Company from 1962, slowly he started buying more stocks to take control of the company.
After he took control, he found out that Textile business was failing and slowly entered into Insurance Industry and other Investments.
9.Hasbro
Hasbro (Hassenfeld Brothers) is an American Multinational Conglomerate with toy, board game and media assets. Hasbro is one of the leading toy manufacturers in the world.
Hasbro was founded by three Polish-Jewish Brothers Herman, Hillel, and Henry Hassenfeld in the year 1923 as Hassenfeld Brothers. The Company initially began selling textile remnants (i.e) selling of cloth leftovers. It soon expanded by selling school supplies such as pencils and pencil boxes.
As an extension of the Company's line of School Supplies, Hasbro gradually began selling modeling clay and some small toys. By 1942, Hasbro had become primarily a toy company. From G.I. Joe to Mr Potato Head and Monopoly to Pokemon Cards, Hasbro has hundreds of product lines and millions of products in circulation now.
10.Shell
Royal Dutch Shell commonly known as Shell is an Anglo-Dutch Oil and Gas Company. It is one among the "Supermajors" in Oil and Gas Companies.
In 1833, Marcus Samuel decided to expand his antiques business to include importing oriental shells from the Far East to be used in the Interior Design Industry. After his death, the business was passed on to his sons, Marcus Junior and Samuel, who were interested in the oil exporting business.
Samuel Brothers renamed their Company as Shell Transport and Trading Company, which was later merged with Royal Dutch Petroleum in 1907. After the amalgamation, the Company is referred to as the Royal Dutch Shell Group, which rapidly grew into one of the world's largest oil and gas companies today.
There are many more Famous Companies which originally sold something else completely different from what made Famous. There is no hard and fast rule to stick to your niche forever.
The key to the success of the above Companies is "Adaptation", adapting to changing markets, changing technologies and changing consumer needs.
Business is all about adaptability because you'll never know what's around the corner!
Click Here for more interesting articles!