Art and culture
You've been experimenting with the watercolour for quite some time now. But, "Have you ever felt that you are missing out somewhere to get the actual ...
"We know that we all can draw. The matter is how you draw it." We all can draw some of you also can draw it in the right way. Some of you may not draw it ...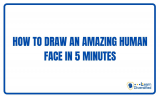 Do you want to become an "artist"? With simple steps, you can become an "artist".Take a Paper & sharp your pencil. Don't use the lead pencil  Step 1: ...